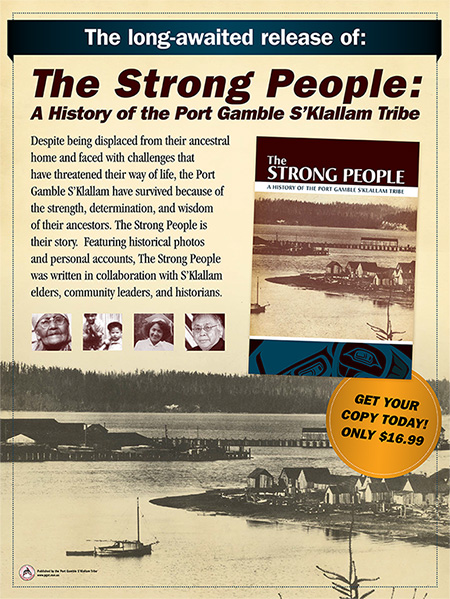 The Strong People -- five years in creation and of hundreds of years in the making features book contributors Ron Charles, Gina Beckwith, and Ted George. It is an in-depth historical and cultural account of the Port Gamble S'Klallam tribe.
To purchase a copy of The Strong People in person visit the Tribal Center, located at 31912 Little Boston Rd NE, Kingston, WA.
By mail, send a check to the following:
The Strong People (Attn: Hannah Jones)
Port Gamble S'Klallam Foundation
31912 Little Boston Road NE
Kingston, WA 98346
The books are $16.99 each plus $5.00 for postage. Call Andrea Dolan-Potter at 360-297-9623 or email at andreadp@pgst.nsn.us with questions or the cost for sending multiple copies.
If you want to purchase the book via our Paypal portal (credit card or PayPal account), click on the link below: